Internal Computer
The Allegro Dog's internal computer is an Advantech MIO-5290 single board computer (SBC).
The Allegro Dog comes pre-installed with SimLab's RoboticsLab™ and the RealtimeRobotics™ realtime add-on. This allows you develop Allegro Dog controllers and test them on the system in hard real time.

To facilitate the productivity of robotics researchers and engineers, RoboticsLab™ aims at providing systematic support for the whole spectrum of development from prototyping to the robust control of hardware systems. Every aspect of our software and its use has been examined from the viewpoint of the robotics engineer, greatly reducing the need for specialized knowledge in the low-level details.
RealtimeRobotics™ is a RoboticsLab™ Premium Add-on which implements a commercial RTOS-based real-time control framework for RoboticsLab™.
Advantech MIO-5290
Information related to the Advantech MIO-5290 can be found on Advantech's support site.
PC Power Switch and Status Light
This push button will boot up the Allegro Dog's internal computer only if the main power switch (#2, above) is switched on. When the computer is on, the button will light up orange. When powered on, a quick push of this switch will not shut the computer down. If necessary, you can perform a hard shut down of the computer by pressing and holding the button.
Note By default, the computer is not automatically booted when the main power switch is turned on.
Note The PC runs on 12VDC supplied by the power management system. If you power it separately, make sure to use 12VDC.
Data Sheet
Click the Data Sheet below to view the full pdf.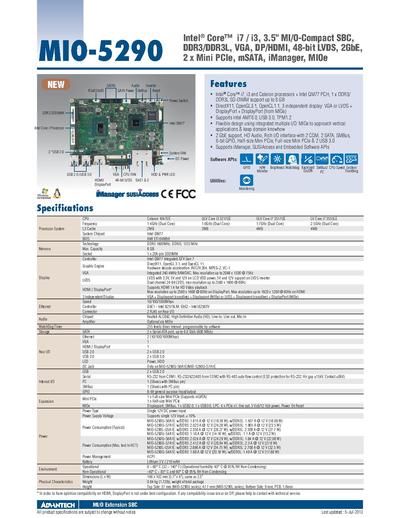 User's Manual
Click the User's Manual below to view the full pdf.
Drivers
Drivers can be downloaded here: Advantech MIO-5290 Drivers
TODO: Something!