Multiple fingertip sensor options, as well as a small IMU, can be purchased along with the Allegro Hand.
---
BioTac Sensor Kit for Allegro Hand
Product Page: Syntouch BioTac kit for the Allegro Hand
Features
Multimodal tactile sensing
Can be used to develop intelligent reflexes
Simple installation
System Contents
4 BioTacs
4 Allegro Hand adapters
Cables
4 Test Cores
BioTac maintenance kit
Development kit
---
Weiss Tactile Sensors
Product Page: WRT 104 - Tactile Sensor System for Allegro Hand.
Features
Compact design without any extra components
Direct connection to a control computer possible
High sensitivity and dynamics
Low crosstalk
Areas of application
Reactive gripping
Tactile exploration
Test and measurement
Service robotics and human-machine interaction
---
Withrobot Attitude & Heading Reference Sensor
myAHRS is a sensor module which provides Attitude & Heading Reference in 3-D space.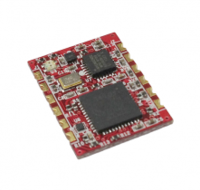 Product Page: Withrobot myAHRS
Features
High speed data interface: UART/USB (100Hz), I2C (1kHz)
Heading range: -180° ~ 180° (magnetic north base)
Roll range: -180° ~ 180°
Pitch range: -90° ~ 90°
Easy to calibrate and update firmware
Includes software for data visualization
---
---
Copyright & Trademark Notice
Allegro, the Allegro logo, RoboticsLab, the RoboticsLab logo, and all related files and documentation are Copyright ⓒ 2008-2020 Wonik Robotics Co., Ltd. All rights reserved. RoboticsLab and Allegro are trademarks of Wonik Robotics. All other trademarks or registered trademarks mentioned are the properties of their respective owners.

Wonik Robotics's Allegro Hand is based on licensed technology developed by the Humanoid Robot Hand research group at the Korea Institute of Industrial Technology (KITECH).

Any references to the BHand Library or the Allegro Hand Motion and/or Grasping Library refer to a library of humanoid robotic hand grasping algorithms and motions developed and published by KITECH researchers.
J.-H. Bae, S.-W. Park, D. Kim, M.-H. Baeg, and S.-R. Oh, "A Grasp Strategy with the Geometric Centroid of a Groped Object Shape Derived from Contact Spots," Proc. of the 2012 IEEE Int. Conf. on Robotics and Automation (ICRA2012), pp. 3798-3804

Wiki maintained by Sean Yi <seanyi@wonikrobotics.com>